Making places: Studio Response at six
Founders and co-directors Emma Price and Jo Breckon on life as a partnership and how they make public art matter
When Emma Price sat across a boardroom table from Jo Breckon in the early 2000s, the pair were already trailblazers in their fields. At these meetings of the Arts Council of Wales' South Wales Area Committee, Jo was the youngest Arts Council of Wales officer and Emma the committee's youngest member.
"I remember presenting reports at a committee meeting, one of those big boardroom tables," says Jo. "We probably thought we were making really high-power decisions but they were probably really small amounts of money."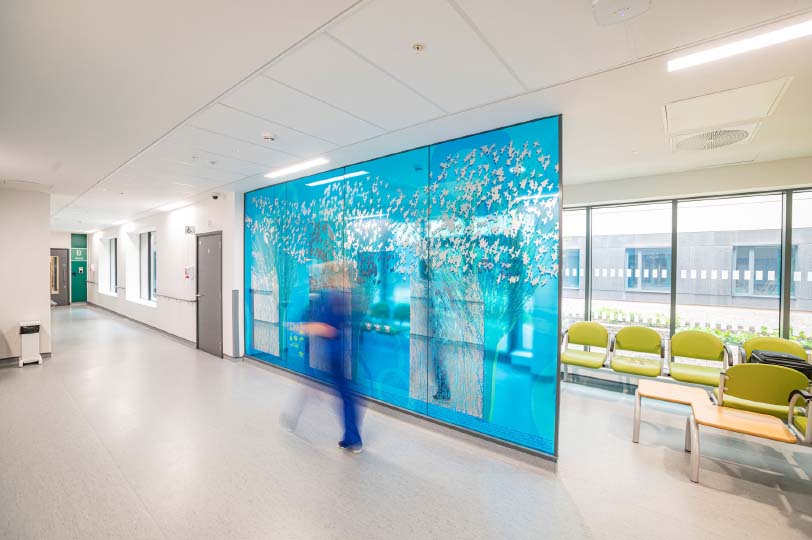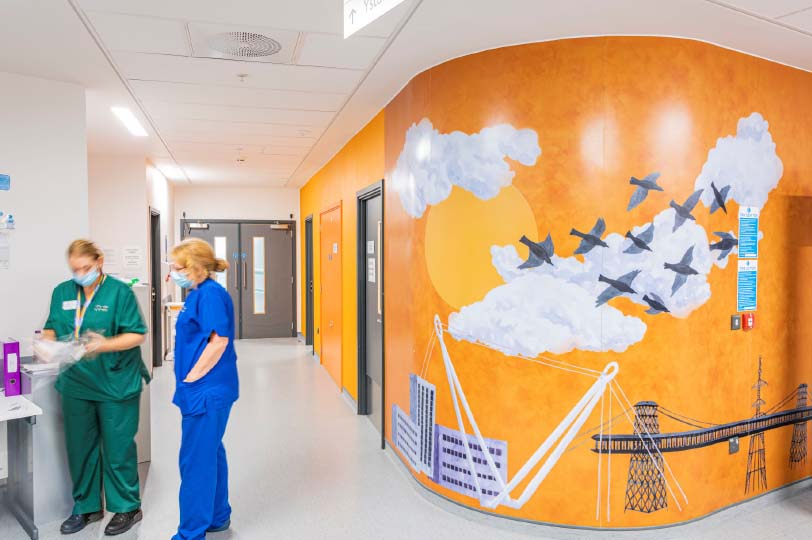 Almost two decades later they are still blazing a trail across the public art scene as co-directors of Studio Response, which celebrated its sixth anniversary in 2022. Today, the pair and their associates commission and curate art in the public realm across the UK and Ireland. At the end of 2021 they completed work on their largest commission to date, Art for the Grange. This highly curated arts and health programme of site-specific physical artworks and durational creative projects engaged more than 60 artists to create everything from poems to healing gardens and interactive digital artworks for the new Grange University Hospital in Cwmbran.
Art for the Grange not only reflects the scale of their achievements and expertise but is also a testament to their work as champions of public art. Jo and Emma believe art can enrich public spaces and they work tirelessly with artists and communities to respond creatively to people, place, culture, heritage and aspirations, whether the resulting artworks are permanent sculptures, temporary artworks, socially engaged projects or integrated architectural designs.
Studio Response currently has more than 20 projects on its books, from the Monumental Welsh Women project to establish the first statues of real women in Wales to Temporarily Here to Stay at the Taylor Wimpey residential development, Clare Garden Village in Cowbridge, which is responding to ideas around wayfinding, connectivity and legibility.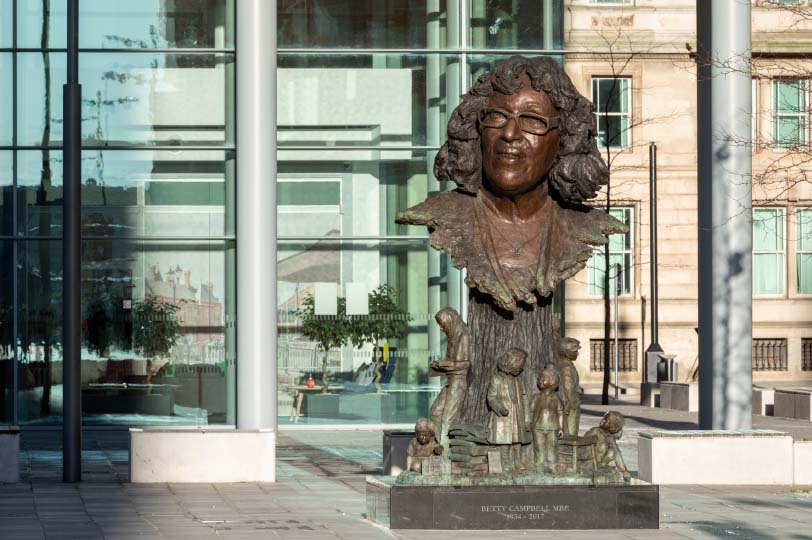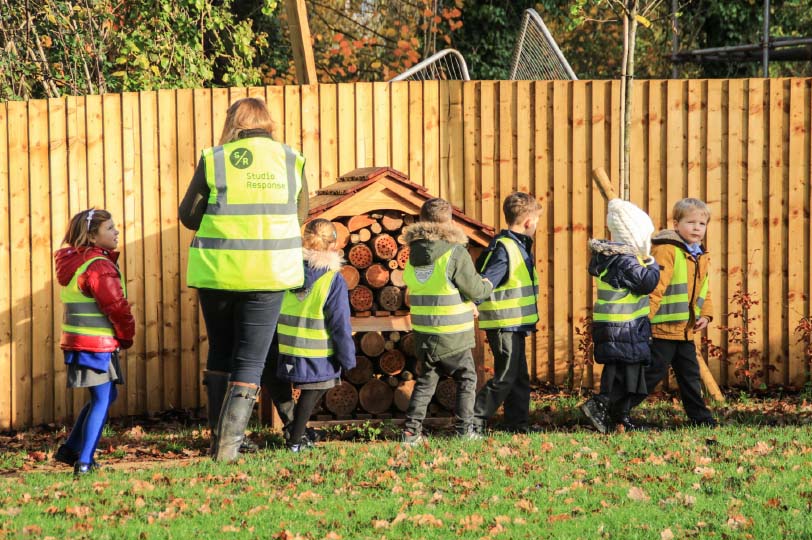 Jo and Emma formed Studio Response in 2016 after successful careers in public art but the roots of their commitment to their cause lie in their love for the south Wales communities from which they hail, Newport and Aberdare. "Our backgrounds are from working-class areas and our upbringing has bonded us," says Emma. "We've had some wonderful opportunities in our academic careers and in our work but we come from modest backgrounds. That's always a position of pride for Jo and me. We go back to our communities, and say, 'Look, we're not coming in here from above. We're coming in as one of you.'"
So while architecture and urban designers are increasingly taking up the mantle of community engagement and social activism – and we all come to understand the importance of our environment on physical and mental health – Jo and Em have long been advocates for site-responsive art that places professional artists, designers, makers and architects and communities at the heart of urban and rural public spaces.
"It is people who make places, not buildings, not squares, not roads," says Jo. "Without the people, there is no place. It's not a community, it's not a place to work or live."
Emma came to public art from life as a lecturer in photography and design. She joined CBAT:the Arts and Regeneration Agency, in 2003, appointed to a post which was initially funded for two years by the Esmee Fairbairn Foundation to promote art and community engagement in the public realm for disadvantaged communities in south-east Wales. She continued to work for CBAT and later Safle, commissioning projects from the Twisted Chimney by New York-based artist Brian Tolle, to Tree in the Bay, by Angharad Pearce Jones,
a response to the heritage of Cardiff Docks amid the rapid modernisation of its waterfront. "Until recently it was only artists and artist commissioners who looked at the history of a site to inform the artwork," she says. "Today, projects have to look at the history of people in place – but I already was in my work. We're particularly proud of that. Everybody tries to reinvent it – regeneration bodies and the universities – and yet artists have always been doing it."
Emma went freelance with EMP Projects in 2010, but her remit remained the same: to work on the inception, development and brokering of public art commissions rooted in community engagement that contribute to the positive transformation of our public spaces, be this for environmental or social motivation. "We [Wales] were the first ones, I'd say, in public art to start talking about community engagement and devising creative consultations with the local authorities and private businesses to start looking at communities taking ownership of their own spaces," says Emma. "There were some exciting and relevant activities coming out which, to an extent, didn't get published in public art evaluation papers. It was quite fiscal, which it should be, but it just missed those new strands of 'engagement' and 'community' things happening in Wales. Wales, from what I gathered, was the first to do artist residencies and, for example, to include public art contributions within local authority planning policies as a way to mitigate the effect of development. We don't take ownership enough about the work we do."
In the mid-2000s, Jo started work on the Arts Council of Wales' capital lottery programme, which was responsible for some of Wales' landmark projects, such as the Riverfront Theatre in Newport. She then joined Willis Newson in Bristol, at the time one of the UK's only arts and health consultancies, before going freelance after the birth of her son.
When their paths crossed during these years, they would have "really creative conversations" about the way forward for their field and about the frustrations they felt about each sector working in silo. "It was frustrating because, with the [Arts Council of Wales'] capital strand, the focus was always on the work, because the money was paying for something physical. And Emma and I were always looking for the people, for the engagement, for the opportunities to do something creative but involving the communities, including the arts community, in which work would be placed," says Jo.
Studio Response has allowed them to work in ways that better suit the artists, the art they want to champion and, of course, themselves. Studio Response places people at the very core of the company itself, as well as its projects. Jo and Emma take care to understand each others' lives beyond work, and carefully divide their workloads to play to strengths, expertise and commitments. And this extends to the people they work with, too. "We like to think that we are caring of one another and the people we work with," says Emma. "That permeates into how we commission. I like to think we treat artists with as much courtesy and consideration as we do each other. They are quite peripatetic in their different projects, so we treat everyone like we do ourselves. I hope that enriches their experience of working with us."
Chair of the Monumental Welsh Women Group and the project's driving force, Helen Molyneux, agrees. "We have been working with Emma and Jo at Studio Response on our project to commemorate historical Welsh women for five years," she says. "Their advice, guidance, professionalism and dedication have been unwavering. Their expertise has made a potentially difficult project a joy to work on. They have a passion for art and artists which shows in their approach to projects which is always creative."
Much of this empathy springs from Studio Response's status as a proudly women-led company. "We had an artist, Heloise, doing a project and she became pregnant," Emma explains. "And she said, 'I don't know what to do.' I said, 'If you feel comfortable, bring the baby in to do your residency.' And it was a joy to see multiple generations working together through creative means. We've worked well, doing things that way," she adds.
Support is vital when Studio Response asks gallery-based artists to push their practice into the public realm for the first time. "We give them the comfort of saying, 'We will guide you through these different ways of working,'" says Emma. "We really value the artists and their background and vision."
The artist and architect Katherine Jones, who worked on Art for the Grange, agrees. "I was delighted to be asked by Studio Response to create two beautiful drawings for the maternity ward," she says. "It was the first time I had created anything that would be turned into something so large. It was a fantastic process to be a part of and Emma and Jo were so supportive and welcoming. I feel so thrilled that so many new mums and mum's-to-be will get to experience my work in this setting."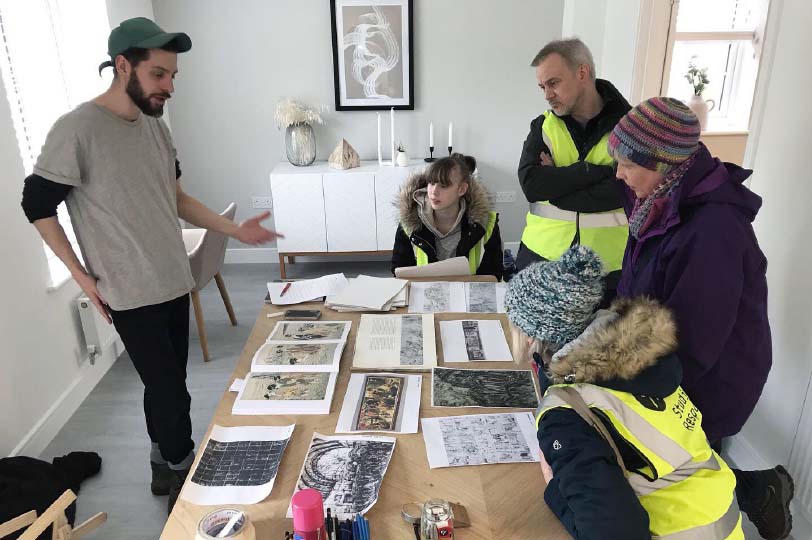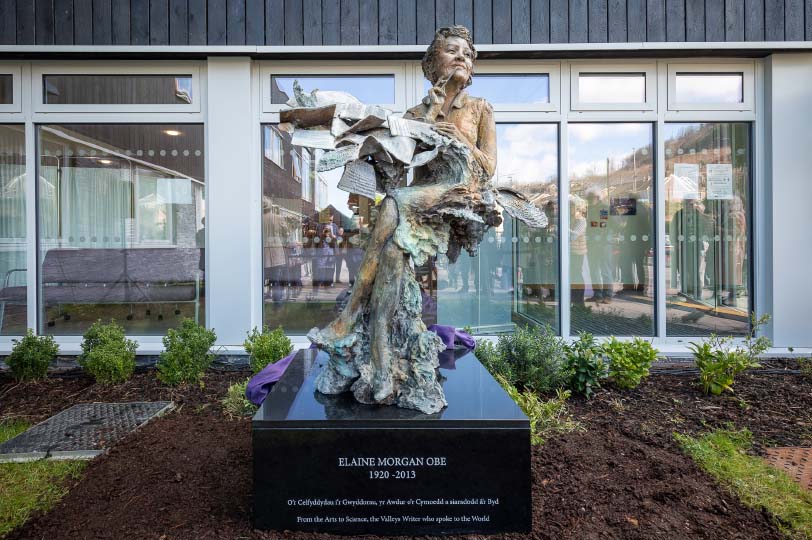 Working in the public realm can be a unique and fulfilling experience for artists, and even some architects, however, the additional input into their creative process can be daunting for those more used to working alone in their studios. Studio Response is always on hand to navigate the waters, says Jo. "When they work in the public realm, they have a client that's a housing developer or a local authority," she says. "And the first thing that will happen when they deliver their idea is that somebody will pick holes in it. We have to negotiate that. They get, 'Is it a trip hazard?' 'Have they thought about access?' 'Have they thought about maintenance?' It's quite hard being told, 'It's not actually what we thought we wanted. It's not right, it's not there yet.' Em speaks to the client and talks about maintenance and engineering, and she has to turn all those points into the artist's language to convey the message in a way they will respond to. Then she takes the answer back to the client, to allow as much creative freedom as possible for the artists' vision. We have to speak so many different languages to get to a point where the work can be presented or installed. In many ways, each commission in the public realm is a creative risk-taking exercise for all, but it is well-worth it."
Jo and Emma's expertise and understanding have allowed them to work on prestigious projects, becoming major players in public art, particularly in Wales and the south-west of England. "I looked at some figures," says Emma. "And we actually pay more fees to artists than some of the conventional art-grant providers and, to an extent, without as many caveats. Over the last couple of years, we've easily hit half a million in fees for artists, designers, writers, whomever. We've been pumping funds into the arts ecology for over 10 years."
Their success is driven by their commitment. While they are a private company, there is sometimes a misconception that the co-directors are doing rather well, which is often far from the truth. Indeed, with projects on pause at the beginning of the Covid pandemic in 2020, they paid artists' fees out of their own pockets. It's their philosophy that artists' fees should be on a par with other professionals on design and build teams, and Studio Response advocates this on their commissions and beyond.
There are plenty of opportunities for Studio Response to expand their portfolio but Jo and Emma's immediate ambition is to elevate art in the public realm and to put the wider benefits of working with artists on a firmer footing. "We have to spend a lot of time battling to even get heard. It would be amazing if we didn't have to argue the values and the benefits every single time," says Jo. "What I would love to do is to look in the first instance, at the whole of Wales, with the Welsh Government or the 22 local authorities, and look at how we could improve their engagement with artists in the public realm. To have a seat at the top table and just to go, 'Actually, you know about this.'"
Engagement at the top level could make Wales the home of global, agenda-setting accessible art in the public realm in the landscape and built environment, for urban and rural active travel, and for connectivity, regeneration, tourism and heritage. And, of course, for increasing diversity and social engagement of communities and to encourage future arts and creative practitioners. Studio Response is more than ready to think big for the nation. "There's an amazing programme in Norway," says Jo. "They've got scenic routes across the country. And along the way they've invested in young architects and designers, who have built stunning structures at key points along the way which are as simple as bus stops or toilet blocks in car parks, or they're platforms that go over these amazing fjords. It's just such an amazing way to link the natural landscape, economic regeneration, tourism and wellbeing. It's big money. I would love to do something like that."
But, for now, they remain grateful to the artists, architects, designers, makers and clients who help them produce art in the public realm. "Without them we couldn't do what we do."